Do you want to learn how to circle a word in Google Docs?
In this tutorial, we will show you how to circle a word in Google Docs. This is very simple and easy! You can do it with a few clicks. 
Circle words and phrases to highlight them in your document. This is a great way to make important information stand out more for the reader or yourself when you go back through it later! We share with you the 8 steps to do that. You just need to follow the steps. 
Let's go to know how we can do that. Don't forget to check the below video because it will help you to understand in every single process.
Circle Word In Google Docs With 8 Simple Steps
Follow the below steps to do that:
1. Open google docs. Then, tap on the Insert option.

2. From the list, click on the Drawing > New.

3. Now, the drawing tool will open. Tap on the Shape.

4. Under the shapes, select oval.

5. Draw the circle according to your need. Double click on the circle to add the text. Put the text that you want to add.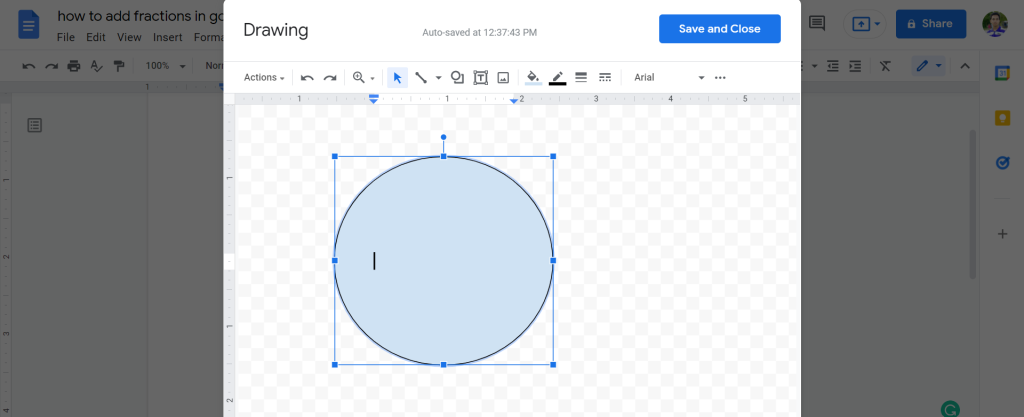 6. To center the text, tap on the three-dot icon. Then, under align, select the align center option.

7. You can also add circle color, text color, text size, and more with the above option. After that, click on Save and Close.
8. Now, you will see that you successfully circle a word in Google Docs.

Check out How To Insert Vertical Line In Google Docs.
Final Thoughts
Now that you know how to circle a word in Google Docs. We hope you will take advantage of this time-saving trick.
If you have any other questions about the process or need help with your next project, please feel free to comment below today. We're happy to provide all the assistance necessary for successful projects!
Thanks for reading. Have a great day.